Browse by Regions
North
Center
South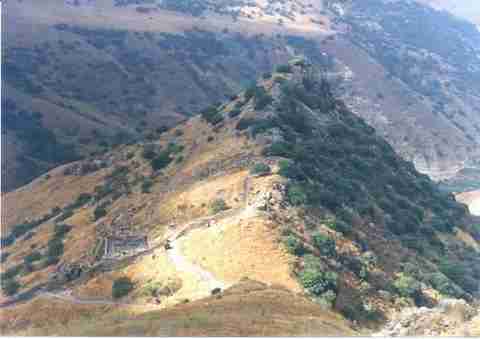 Orit Liran - Basket Weaving

We offer basket weaving, arts & crafts and workshops using natural materials

Address: Pkiin - Western Galilee

Back to Nature via the Bible - Gguided tours, accommodation, restaurant & holistic activities.

"Back to Nature via the Bible" is an ecological biblical village located atop Mt. Camun, within the spectacular scenery of the Galilee. It is a special place where you can go back in time to the days of our forefathers, to the days of the bible. All of one's senses are put to use during the fascinating visit to the biblical village. The scents of medicinal plants and herbs, the tastes of bread and hyssop baked in the clay oven and the beautiful vistas of the Galilee.

Address: Mitzpe Machmanim - Western Galilee

Aya Natural Ltd - Gguided tours, Tourist center

Aya-Natural is a manufacturing company dedicated to develop biodegradable natural-soaps and natural body care products without petrochemicals ingredients by using vegetable oils while Galilee olive oil is the carrier oil. We also maintain a friendly, fair, and creative work environment, which respects diversity, new ideas, and hard work

Address: Beit Gan - Western Galilee

Indigo - Guest House & Holistic Activities

Our zimmers are a part of the natural landscape and vegetation, planned in a mediteranian approach using natural and local materials, while putting an effort on insolation in order to save energy, all the water are recycled and used for the garden irrigation. Organic vegetables are being grown in order to make breakfast for the zimmerim, all the food home made fresh, healthy and locally grown

Address: Mizpe Abirim - Western Galilee
Bein Haruv Lezait Organic farms and Guest house

An ecological oriented bed and breakfast. In the organic village of Clil, in the western Galilee, with a vast view of the surrounding, peaceful and relaxing atmosphere. A private swimming pool in the summer and a warming fireplace and Jacuzzi in the winter. We provide organic breakfast and in our little shop, we sell natural foams, soft and patched clothes

Address- Moshav Clil

Alice's Woodenland - Guest House & Holistic Activities

Rustic wooden chalets meet your eye in a natural setting of trees & local boulders, with a stunning view of mountain & sea. We prepare & serve vegetarian & organic breakfasts.

Address: Mizpe Manot - Western Galilee

Smadar beclil - Guest House

Three log cabins and a dairy vegetarian restaurant scattered on the slop of Western Galilee mountains in Clil. Spectacular view to the sea

Each one of the cabins is privately located and comfortably furnished. In the restaurant we serve rich and notorious meals: freshly squeezed organic orchard juices, whole wheat breads selected goat cheeses, home made pasta, soups and refreshing salads seasoned with herbs picked in the garden

Address: Moshav Clil - Western Galilee

Rosheen's Guest House - Guest house

Two comfortable guesthouses in Clil, an ecological village in the Western Galilee. The guesthouses, each with a beautiful porch overlooking a lovely garden, are powered by solar energy and are situated in a remote part of a village that insists on ecologically sound organic farming. The fact that pesticides and insecticides are not used in the entire region leads to high biodoversity in flora and fauna and exceptionally clean air. The people of Clil are committed to a program of replanting native species to replace the bush caused by years of fires and overgrazing.

Address- Moshav Clil - Western Galilee
Yehiam Fortress National Park - National Parks

Crusaders, Ottomans, and Israeli settlers

Yehiam Fortress is located in Kibbutz Yehiam, in the western part of the Galilee. When the kibbutz was settled in 1946, its original residents lived in the fortress ruins. The massive walls protected them when they were under siege during the 1948 War of Independence.
Ahziv National Park- National Parks

The magnificent Mediterranean Sea
A myriad of options awaits visitors to the Ahziv National Park: a rocky embayed coast; lagoons; deep natural seawater pools; manmade seawater pools, shallow enough for children to splash in; the remnants of an ancient settlement; and large, grassy lawns.


Weather Forecast